Alamo Square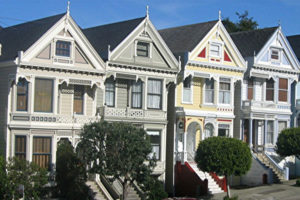 One of the most exciting and photographed neighborhoods in San Francisco, Alamo Square is home to the Painted Ladies, a row of colorful Victorian-era houses backed by the city's skyline. Many architecturally significant houses line the perimeter of the square as well, including the Archbishop's Mansion, and the residences of the Russian and German Imperial consuls from the early 1900s.
Alamo Square Park, in the center of the neighborhood, offers an excellent view of the Beaux Arts dome of City Hall, the surrounding cityscape, and the tops of the Golden Gate Bridge and the Bay Bridge. Neighbors of flock to the park on weekends to walk their dogs, take their children to the playground, or to play a game of tennis.  There's a growing collection of hip, popular restaurants and bars. Nearby Golden Gate Park is a great place to walk, bike, and home to the incomparable de Young Art Museum, the California Academy of Sciences, and the Conservatory of Flowers.
---
Anza Vista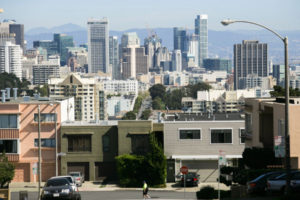 A residential, hilltop neighborhood in the heart of San Francisco, Anza Vista offers views of the cityscape, with tree-lined streets adding to its appeal.  Anza Vista offers close proximity to Kaiser Permanente San Francisco Medical Center, UCSF Medical Center at Mount Zion, and University of San Francisco's Koret Health and Recreation Center. Geary Boulevard provides a convenient commute to downtown San Francisco via Muni.  Locals flock to the growing number of cafes and restaurants in the nearby NOPA (North of the Panhandle) neighborhood. Nearby Golden Gate Park offers miles of walking paths, bicycling, the de Young Art Museum, the California Academy of Sciences, and the Conservatory of Flowers. San Francisco's Presidio is just a few minutes away and boasts spectacular Golden Gate Bridge views and waterfront paths at Crissy Field.
---
Bayview/Hunters Point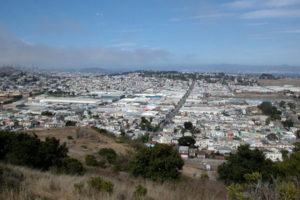 Located in the southeastern part of San Francisco the introduction of the T-Third Street Muni light-rail line in 2007 has increased the neighborhood's popularity.  Properties in the neighborhood are reasonably priced and range from historic single-family homes to condominiums with expansive views, modern kitchens, and hardwood floors.  Candlestick Point State Recreation Area offers stunning views of the bay, along with picnic areas, two fishing piers, fitness courses, and hiking trails. Visual artists, musicians, and writers work in transformed spaces that were once part of the Hunters Point Shipyard, and they participate in the annual San Francisco Open Studios event. Community gardening is popular including the Quesada Gardens, Bridgeview Community Garden, and Latona Community Garden.
---
Bernal Heights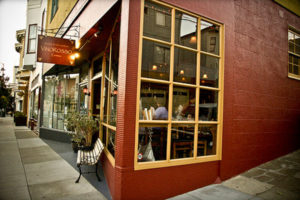 Family-friendly Bernal Heights sits on the site of a former cow pasture and dairy, and its smaller Victorians offer great northern views of the city and sunny weather. Located just south of the Mission District, the neighborhood includes undeveloped open space Bernal Heights Park, a beloved place for dog walkers. The retail center of Bernal Heights offers one-of-a-kind boutiques, bookstores, and gift shops are interspersed with ethnic restaurants that range from French to Nepalese to Salvadoran. 
Local transit is provided by numerous Muni bus lines and BART stations are within walking distance from some parts of the neighborhood.
---
Buena Vista/Ashbury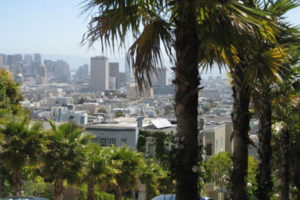 The Buena Vista/Ashbury neighborhood is primarily residential, full of young families and professionals. Many residents shop and dine downhill along nearby Cole Street in Cole Valley and the small markets on Parnassus Avenue and Haight Street. Golden Gate Park is a short walk away. 
Homes in the neighborhood come in a variety of architectural styles, including grand Victorians, colonial revival, restored carriage houses, shingled Tudors, and Queen Anne towers boasting ornate scroll work, onion domes, and stained glass windows. Access to public transportation is abundant, with numerous Muni light-rail and bus lines throughout the neighborhood.
---
Central Richmond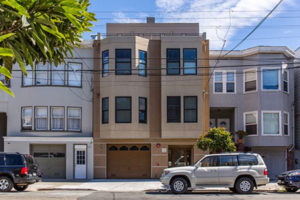 Central Richmond is a beautiful neighborhood bordering Golden Gate Park. Homes in the neighborhood are in close proximity to good food, beautiful parks, and many forms of entertainment. There's a wide variety of restaurants including Asian food from nearly every region, popular taquerias, cafes, French and Italian cuisine, and more. Clement Street offers dining options to suit almost any preferences. The neighborhood is full of colorful homes, many of which are less than a mile from the Pacific Ocean at Ocean Beach, and enjoy easy access to both Golden Gate and Presidio parks. Convenient to San Francisco State University, University of San Francisco, and University of California – San Francisco, this area is close to entertainment but retains a peaceful, inviting feeling.
---
Central Sunset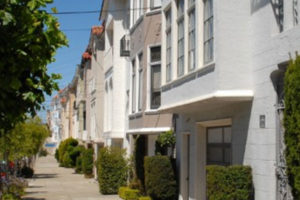 The Central Sunset lies between the Inner and Outer Sunset neighborhoods, a short distance from Ocean Beach and Golden Gate Park.  The neighborhood has a global village vibe with plenty of great ethnic restaurants combined with trendy new upstarts and bold experiments in food. Though much of the neighborhood is residential, many businesses and shops line busy Irving Street in the eastern portion of the neighborhood. Muni's N-Judah light-rail line offers service to downtown areas, as well as the Pacific Ocean.
---
Cow Hollow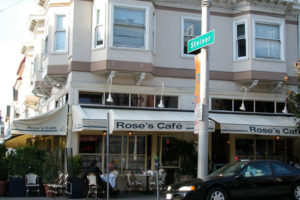 Cow Hollow's name is from a former meadow and feedlot in what was once known as Spring Valley. Today, this affluent neighborhood of older homes between the Presidio and the Marina districts is known for its boutique shopping on Union Street, Italianate Manor homes, and nightlife.  Throughout the neighborhood old, historic homes sit next to sleek, midcentury modern makeovers. Cottages enclosed in garden greenery, elegantly traditional Queen Anne and Victorians, Italianate mansions, and luxury condos make Cow Hollow one of San Francisco's most desirable residential neighborhoods.  Upscale eateries include the brasserie Cafe des Amis, neighborhood favorite Rose's Cafe, sustainably raised beef at Roam Artisan Burgers, and desserts at Pacific Puffs. Shopping along Union Street is stylish and exclusive. Dozens of small boutiques, art galleries, and jewelry stores line the streets and offering urban shopping second to none.
---
Diamond Heights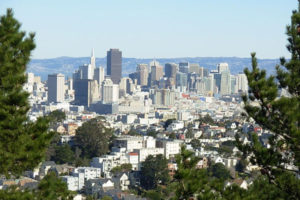 Towering above much of the city Diamond Heights neighborhood offers some of the best views in the city and often called an undiscovered gem by its residents.  Developed in the 1960s, Diamond Heights is a quiet, peaceful residential district with charming, tree-canopied stairways connecting streets and shortcuts with breathtaking views. The neighborhood has the laid-back feel comprised of single-family homes, bungalows, and midcentury modern dwellings. Harry Street Stairway leads to Billy Goat Hill, a local park providing stunning vistas.  Noe Valley is a short walk from area and downtown San Francisco is a quick drive from the district.
---
Dogpatch/Central Waterfront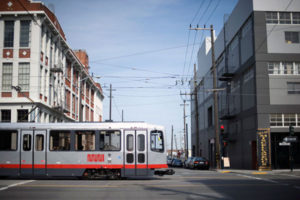 The Dogpatch/ Central Waterfront is historic and vibrant. Populated in the late 1800s by industrial workers this was one of the few areas in San Francisco to survive the 1906 earthquake and fire. In 2002, Dogpatch became an officially designated historic district of the city of San Francisco.
Many of the neighborhood's former factories, warehouses, shipyards, and mills have become live/work lofts, high-tech professional workspaces, and trendy restaurants. Located along the T-Third Street Muni light-rail line and its close proximity to Caltrain, Highway 101, and Interstate 280 makes easy commuting throughout the Bay Area. Nearby Mission Bay is the headquarters for the University of California, San Francisco research campus and Benioff Children's Hospital.
Foodies enjoy innovative and fresh foods from a variety of local restaurants, including Just for You Cafe, The Ramp, Yield Wine Bar, and Mission Rock Resort. American cuisine restaurant Serpentine is located in what was once a tin-can factory's boiler room. Residents who prefer to cook at home can stop by Whole Foods Market after work. Nearby, Potrero Hill's 18th Street corridor features trendy bars, cafes, and restaurants.  On sunny days, locals gather at Esprit Park for a picnic while their dogs play. Multiple Muni bus and light-rail lines provide access to downtown.  Residential real estate options include Victorian cottages constructed in the 1860s. Penthouse lofts feature Downtown, East Bay, and Bay Bridge views; private patios; and garages. Many live/work lofts in historic buildings have expansive windows and exposed brick walls.
---
Downtown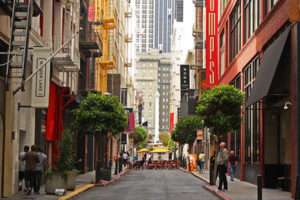 Close to world-class museums, the Financial District and the Ferry Building, Downtown San Francisco has it all.  Extraordinary shopping centers include the flagship retailers of Union Square and boutiques of Maiden Lane all within walking distance. Local favorites include Blue Bottle Coffee in the Ferry Building, the French bistro Cafe Claude, and the lushly romantic Le Colonial for exotic cocktails.
Parts of the neighborhood have undergone massive revitalization. Museums attract a vibrant crowd of visitors, and the San Francisco Museum at the Mint is now a busy cultural center hosting dance and music performances. For those who crave open space, the Embarcadero, with its bay front vistas is close and a great area for strolling.
---
Duboce Triangle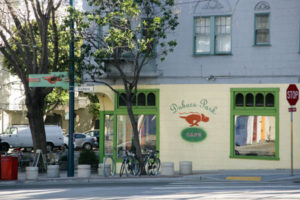 Duboce Triangle is one of the sunnier districts in San Francisco. Trendy restaurants and shopping on Castro, Mission, and Haight streets and served by the Church Street Muni station, the area is a big draw for car-free urbanites.  The neighborhood's Edwardian and Victorian flats represent the best of their eras. Many homes in the neighborhood offer views of Twin Peaks, Buena Vista, and Corona Heights neighborhoods from their sunny, walk-out decks.  In the 1960s, the city renovated the entire district by planting street trees, burying utility wires underground, and widening the narrow sidewalks and streets. Today, with its now-mature trees and rejuvenated homes, Duboce Triangle is distinctly residential and urbane.
In the evening, locals head out for dinner at one of the many nearby bistros and bars. Market Street's eateries offer burgers, sushi, Indian cuisine, and everything in between. An easy stroll away is the Haight Ashbury neighborhood, once the center of the hippie culture and now home to hip restaurants, high-end vintage clothing stores, and a number of exclusive boutiques.  At the center of Duboce Triangle sits Duboce Park, a rectangular patch of green space loved by residents and their dogs. Nearby tree-filled Buena Vista Park, another great place to take a dog and has views of the Golden Gate Bridge and the Marin Headlands. 
---
Eureka Valley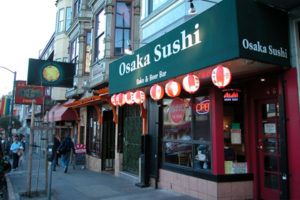 Eureka Valley is one of San Francisco's most vibrant and walkable neighborhoods. Filled with Victorian-era gems, this exciting area sits at the crossroads of Noe Valley, Mission Dolores, and the Valencia corridor and encompasses the Castro District. Its multiple Muni bus routes and proximity to BART make Eureka Valley a convenient location for commuting throughout the Bay Area.  
Nearby Noe Valley is paradise for foodies, with its array of lively bistros, cafes, and the Noe Valley Bakery. Valencia Street, just east of Eureka Valley, is lined with hip restaurants and bright street murals. The Mission District offers funky coffeehouses, bookstores, art galleries, and avant-garde theater.  The Castro District, the heart of the gay community San Francisco, hosts the annual Castro Street Fair, with live entertainment, DJs, food vendors, community-group stalls, and an artisan alley with dozens of Northern California artists.
On warm days, locals head for Mission Dolores Park, where they enjoy the sun and stunning views of the city and the East Bay. Families flock to the park for picnics, barbecues, and spontaneous games of soccer.  Homes in the neighborhood include sunny, multifamily flats, single-family homes, and condominiums many with lush private gardens.
---
Financial District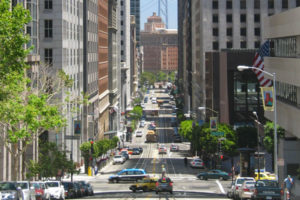 The heart of San Francisco's business district is the Financial District/Barbary Coast neighborhood. Walk to Union Square, Ferry Plaza, and North Beach, and dine in some of San Francisco's most celebrated restaurants. Enjoy expansive views of the downtown skyline, the Bay Bridge, and the East Bay from your private patio.  To stretch your legs, head for the Embarcadero, where a palm-tree-lined walkway extends along the waterfront for miles in either direction. The recently renovated Ferry Building Marketplace offers a farmers' market, fresh-baked breads, artisan cheeses, and local fish. Nearby Union Square attracts sophisticated shoppers from around the world. Muni and Bay Area Rapid Transit (BART) offer easy commuting options throughout San Francisco and the Bay Area.
Real estate in this unique neighborhood includes condominiums in Manhattan-like buildings with expansive views in every direction; and condos and townhomes in smaller, historic buildings, often featuring hardwood floors, 10-foot ceilings, floor-to-ceiling windows, and exposed brick walls.  The historic Jackson Square area, adorned with tree-lined streets and vintage architecture, is home to restaurants, art galleries, and antique shops.  The area is magical. 
---
Forest Hill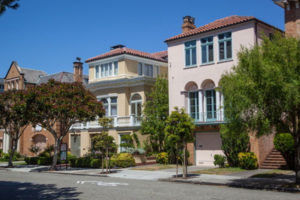 Forest Hill is a century-old enclave of large estate homes, manicured lawns, and flowering gardens.  In the center of San Francisco, the neighborhood has ambience of a small town that follow the contours of Twin Peaks. The hillside provides spectacular views of the Pacific Ocean, the Golden Gate Bridge, and San Francisco Bay. Stately homes are built in a range of styles, including Spanish Mission, California Modern, French Normandy, English Tudor, and Cotswold Cottage. Forest Hill is close to West Portal Avenue and its many shops and restaurants. The Forest Hill and West Portal Muni stations provide light-rail transit service to Union Square and the Financial District.
---
Glen Park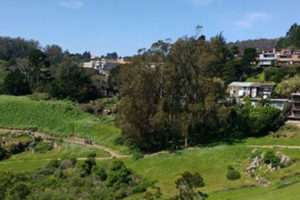 Glen Park is a compact neighborhood that is becoming increasingly popular. Tucked below the steep, wild slopes of Glen Canyon, the neighborhood feels almost like an urban village.  It has its own library; small retailers along Diamond, Bosworth, and Chenery streets; and coffee shops, bakeries, and fine food merchants. Ethnic cuisine runs the gamut, from Le P'tit Laurent and Osha Thai Café to La Corneta Taqueria. There's also an independent bookstore Bird & Beckett Books and Records, which specializes in the history and culture of San Francisco. 
Glen Canyon Park offers urban recreation, rock outcrops for bouldering, a community recreation center, ball fields and tennis courts, and playgrounds for kids.  For those working in downtown San Francisco, the BART Station at the intersection of Bosworth and Diamond streets is within walking distance, as is the J-Church light-rail train. The neighborhood's proximity to Interstate 280 makes it convenient for Silicon Valley commuters and allows easy access to Highway 1 and the Pacific Ocean beaches to the south.
---
Haight Ashbury
The epicenter of the counterculture movement (home to the Grateful Dead, the Haight Ashbury Free Medical Clinic, and the hippies of the '60s), Haight Ashbury still retains those free-spirited days, grounded by civic awareness and neighborhood pride. Tourists come from around the world to check out the action on Haight Street, there's plenty there.  Trendy boutiques like Upper Playground, Buffalo Exchange, and American Apparel sell great looks. Independent record store Amoeba Music offers an expansive selection of music, movies, and books and hosts free in-store performances. Haight Ashbury homes often include historic Victorians, many under renovation and being rediscovered by families and partners who view them as a hobby, pastime, passion, or investment.
---
Hayes Valley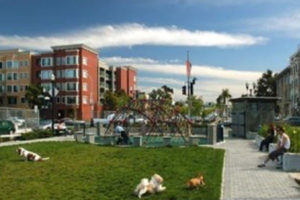 Anchored by the San Francisco War Memorial and Performing Arts Center housing the San Francisco Ballet, San Francisco Opera, and San Francisco Symphony, Hayes Valley provides plenty after the closing curtain. Up-and-coming culinary artists ply their trade, opening restaurants to be discovered by foodies, such as the classic Hayes Street Grill, Absinthe, Chez Maman and Arlequin just to name a few. Hayes Valley is small area that has the feel of a cultural village. The under-the-radar boutiques have made the neighborhood a destination for cool hunters in search of the latest design trends. More than a dozen Muni lines and a Bay Area Rapid Transit (BART) station connect the district. Hayes Valley homes are predominantly single and multifamily Victorians with new development mid-rise buildings starting to take hold.
---
Inner Mission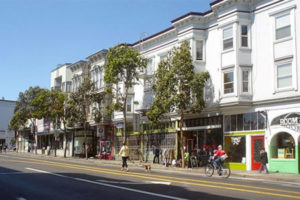 The Inner Mission is one of San Francisco's most vibrant neighborhoods. Homes in the neighborhood include grand, century-old houses, smaller Victorian cottages, and new condo developments that have sprung up in the past couple of years. Stroll along Valencia Street any evening, and you'll experience thousands of young residents out for a bite to eat; a standing-room only crowd store front pop-ups; tuning up their bikes or checking out the latest avant-garde performance. The neighborhood is home to dozens of restaurants serving numerous styles of cuisine, including many taquerias, for which the neighborhood has become famous. Access to public transportation is with multiple bus lines and Bay Area Rapid Transit (BART) stations.
---
Inner Richmond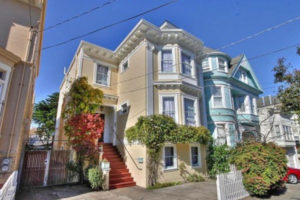 Homes in the Inner Richmond neighborhood range from small multi-units to grand mansions. This bustling multicultural area has access to the Presidio and a wide variety of inexpensive eateries and shops. Several Muni buses provide residents with an easy commute to downtown San Francisco, Inner Richmond has a large number of Chinese and international grocers and has drawn a wide range of diversity over the years. The business center of Inner Richmond stretches along Clement Street, where Chinese bakeries sell steamed meat dumplings, BBQ pork buns, and other dim sum, and other original style delicacies. Diners from throughout San Francisco flock to the Inner Richmond for its variety of reasonably priced offerings. From Cambodian and Thai to French and Russian, residents share the flavors and traditions of their homelands.
Flanked by Golden Gate Park and the Presidio, locals can easily walk to Golden Gate Park's Stow Lake, the Japanese Tea Garden, and several renowned museums. At the Presidio, walkers and joggers can enjoy views of the Golden Gate Bridge at Crissy Field. For those looking for larger homes the Inner Richmond offers lovingly maintained Edwardians with multiple bedrooms, hardwood floors, bay windows, large private yards, fireplaces, and garages. Newly remodeled condominiums and multi-unit homes are also available.
---
Inner Sunset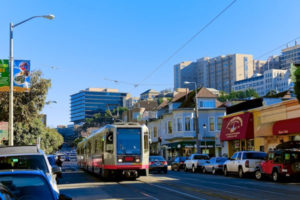 The Inner Sunset neighborhood is steps away from Golden Gate Park; the Haight Ashbury and Cole Valley neighborhoods; and University of California, San Francisco. The area is a big draw for young, urban professionals, partners and families. Easy access to numerous Muni light-rail and bus lines makes for convenient commuting to downtown San Francisco. The UCSF medical campus is located atop the hill on Parnassus Avenue, attracting doctors, researchers, and grad students. The bustling area around 9th Avenue and Irving Street has become one of San Francisco's most vibrant commercial districts. Home to unpretentious diners and cafes, upscale eateries, yoga studios, and even a magic shop, the eclectic neighborhood has something for everybody. Bordering the Inner Sunset to the north, Golden Gate Park offers hiking and walking paths, bicycling, lovely gardens, and world-class museums. The neighborhood's Garden for the Environment is a nationally acclaimed one acre urban demonstration garden, offering environmental education programs about organic gardening, urban compost systems, and sustainable food systems.
Many of the Inner Sunset homes were built during San Francisco's Edwardian era and boast classic, original details, including polished hardwood floors, beautiful wainscoting, and classic picture rail moldings. Many have formal living rooms with wood-burning fireplaces, formal dining rooms, big yards, decks, garages, and storage rooms.
---
Jordan Park/Laurel Heights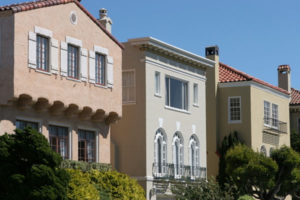 Steps away from the Presidio is the Jordan Park/Laurel Heights neighborhood, a balance of century-old Edwardians and Victorians mingle with charming bungalows, multi-unit buildings, and modern homes. Jordan Park/Laurel Heights attracts upscale families and investors, as the location is easily accessible to most parts of the city. Elegant and quaint, the boutique shops on Sacramento Street in Laurel Heights carry many items on the want list. Restaurants, cafes, and specialty bakeries abound in Laurel Heights. Residents can walk for breakfast, sandwiches, and pasta dishes, Japanese food and sushi and an old-school pubs. Many also enjoy the athletic and cultural facilities at the Jewish Community Center of San Francisco, a modern health center and cultural arts presenter at the intersection of California and Presidio Streets. Multiple Muni bus lines that serve the neighborhood.
---
Lake Street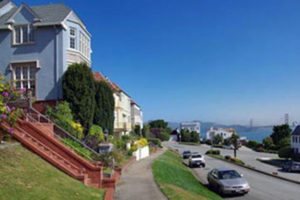 Named for the street of the same name, Lake Street is situated south of the Presidio between the Sea Cliff and Presidio Heights neighborhoods. The district boasts large, 100-year-old properties, as well access to the open spaces of the Presidio, Baker Beach, and Lands End. Lake Street homes are a mix of stately, well-maintained Edwardians and large Victorians, complete with large backyards. Mountain Lake Park offers tennis and basketball courts, along with a playground for younger children. Shopping and dining is plentiful along Clement Street, known for its variety of ethnic restaurants, produce markets, and specialty stores.
---
Lower Pacific Heights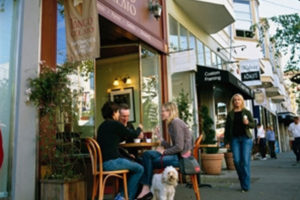 Between California Street and Geary Boulevard lies Lower Pacific Heights, a new name for an old neighborhood. This community boasts a central location, an upscale mix of homes and multi-unit buildings and world class shopping along the main axis, Fillmore Street. Ethnically and economically fluent, the neighborhood offers a buffet of city living. Residents can choose from the activities and eateries along Fillmore Street; Japantown and its extraordinary urban mall offering restaurants and specialty retail stores to recently renovated, spacious and sunny Lafayette Park.
---
Marina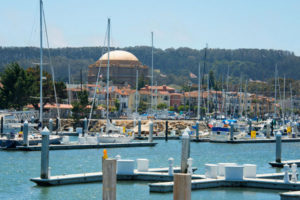 The Marina neighborhood is one of the most sought after in the city. The Marina is home to a large marina and its fleet of exotic yachts. Residents in the million-dollar homes of the Marina appreciate the sun-swept views; the walking, running, and biking trail that runs along the bay; and the wide-open grassy Marina Green that's in constant use. A main attraction in the Marina is the Palace of Fine Arts, a Roman Classical monument designed for the Panama-Pacific International Exposition in 1915. The rotunda, massive columns, and lagoon are a favorite place for photographers and travel magazines. Just east of the Marina is Fort Mason Center, a former Army outpost that now houses a vibrant cultural-arts center featuring restaurants, art openings, galleries, and dance performances and. A farmers market and Off-the-Grid attract thousands, and Greens, one of the first restaurants to offer haute-cuisine vegetarian fare bring those near and far. Chestnut Street also services the community in high style.
---
Mission Bay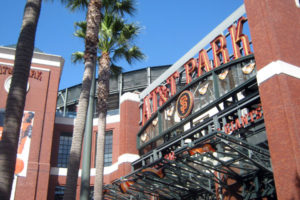 Rising from the former Southern Pacific train yards, Mission Bay is one of San Francisco's newest neighborhoods. Flat, sunny, and with plenty of parking, Mission Bay homes and modern condominiums offer great views of the bay and close proximity to sought after venues. The neighborhood stands in contrast and balance to San Francisco's historic Victorians in the Dogpatch district. The recent development includes the first library to be built in San Francisco in more than 40 years, as well as a Whole Foods Market on 4th Street. Mission Bay is a short walk away from the Giants/AT&T Park and the many tech companies headquartered in South Beach, Yerba Buena, and SOMA.
A lively mix of cafes and restaurants has sprung up among the freight warehouses, including classic diner Just for You Cafe, gourmet pizzeria Piccino on 22nd Street, and American restaurant Serpentine on 3rd Street. Waterfront restaurants include Mission Rock Resort and The Ramp, a dockside, down-home restaurant. Transportation is excellent here. The Mission Creek bike path is inviting and Muni's T-Third Street line connects the neighborhood with downtown San Francisco. The nearby Caltrain Station offers an alternative way to commute to Silicon Valley. For those that drive, Mission Bay is close to the freeway entrances of Highway 101 and Interstates 80 and 280.
---
Mission Dolores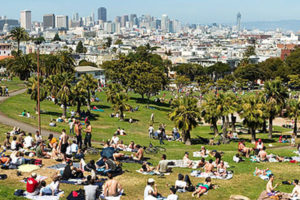 Sunny and centrally located, Mission Dolores is a visions of San Francisco. Attractive to people of all walks of life, the neighborhood is a melting pot, with taquerias and panaderias, pop-up galleries, blocklong live/work lofts in former canneries, and chefs determined to make their mark. The oldest building in San Francisco, Mission Dolores, was founded in 1776, and it still stands at 16th Street and Dolores Street. It is open to visitors as well as those attending its services. Two blocks away, Dolores Park is a favorite neighborhood hangout. On sunny days and warm nights, the gently sloping greens are thronged with people taking in the scene. Public transportation is great; numerous Muni light-rail and bus lines crisscross the neighborhoods, and there are two BART stations within walking distance. Housing was developed to match the taste and needs of this generation of newcomers that have flocked to the area in recent years. Mission Dolores homes include those with luxury interiors featuring exposed brick walls, huge-timbered beams, two-story-high living rooms with airy ceilings, and industrial kitchens, in addition to modern masterpieces with clean lines and inviting spaces.
---
Nob Hill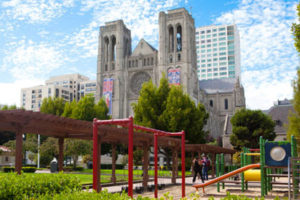 Elegant and swanky, Nob Hill is full of grand hotels bordering Huntington Park and imposing mansions. Nob Hill is home to old San Francisco, perched on a steep slope made accessible in the 1870s by the California Street cable car, which still runs through the heart of the neighborhood. The descendants of San Francisco's founding families still frequent their private clubs here, including the gentlemen's only Bohemian Club and renowned Olympic Club. Neighborhood homes are among the most desirable in all of San Francisco. Baronial wealth is still on display.
The heart of Nob Hill is Huntington Park and its iconic, 10-foot tall Fountain of Tortoises. Plenty of benches around the classic urban square provide a welcome rest for those who hike up the hill. A children's playground is a hidden gem. The massive stone edifice of Grace Cathedral represents the Episcopal soul of the community. Despite its steep streets, Nob Hill is an extremely walkable neighborhood with the feel of an urban oasis. Bounded by the upscale boutiques of Union Square, the hubbub of Chinatown, and the nightclubs of Polk Street, Nob Hill is within walking distance to the Financial District and Downtown.
---
Noe Valley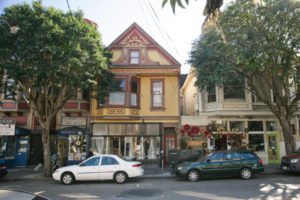 Popular with the high-tech community as well families for its suburban, laid-back vibe Noe Valley is conveniently located near freeways and public transportation. Boutiques are plentiful with confectioneries and restaurants, the neighborhood is a paradise for foodies. The neighborhood also has its share of nightlife, spirits venues and live music. Thanks to the Noe Valley Farmers Market, locals never have to leave the neighborhood to get fresh organic vegetables, fruit, and honey. Noe Valley is a short drive from both Interstate 280 and Highway 101, convenient for residents who commute to Silicon Valley. The J-Church light-rail train is the neighborhood's most favored public transportation option, though several Muni bus lines also serve the area.
---
North Beach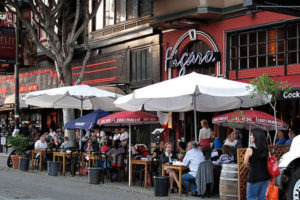 At the center of Broadway and Columbus, North Beach spreads out from the Bay to the bottom of Telegraph Hill, and features authentic Italian cuisine, the spiritual home of the Beat movement, and a boisterous nightlife. There's a live-and-let-live attitude that prevails here. Houses are perched on the quiet streets that make the precarious climb up Telegraph Hill, offering jaw-dropping views. The authentic North Beach can still be found in the neighborhood haunts: Tosca Cafe, a bar that favors opera lovers; Caffe Trieste, the best place to get an espresso; and City Lights, the famed independent bookstore and publisher. And for those of interest, there's plenty of authentic Italian dining and delis, a heritage from the old country.
---
NOPA (North Panhandle Area)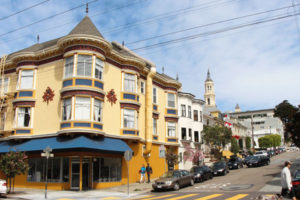 In the center of the city is the eclectic and rapidly growing neighborhood known as North Panhandle (NOPA). The neighborhood is undergoing a rebirth as newcomers discover a community where culture comes together in this urban mixing bowl. NOPA is a neighborhood that rewards entrepreneurs with large dreams and low budgets willing to take a gamble on new retail establishments, art galleries, coffee shops, and restaurants. The eclectic energy of the district is most noticeable in the blocks where tattoo parlors and day-care centers do business next to old-school barbershops, while tiny urban parklets provide plants and cafe seating. The cafes and restaurants best capture the improvised, can-do spirit of the community though the nightlife scene is active and flowing. There's the quarterly Divisadero Art Walk celebrating the upstart galleries, and the weekly Divisadero Farmers' Market on Grove Street, offering fresh fruits and vegetables, as well as local cuisine and entertainment.
---
North Waterfront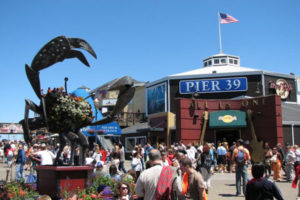 The neighborhood by the bay, North Waterfront extends from North Beach to beneath the foot of Telegraph Hill. The location means great views, good weather, and a lively street scene. Fishermen cast their lines into the waters next to romantic couples on the waterfront piers that extend into the bay. Levi's Plaza Park provides abundant grassy spaces, a gentle stream, and benches for relaxing. Locals enjoy Fisherman's Wharf for Pier 23 Cafe, where bikers mingle with bankers on their outdoor patio. For those craving gourmet cuisine, The House serves up Asian Fusion in an intimate setting. On July 4th, there's no better place to watch the fireworks than from a balcony in the North Waterfront. This is a walkable neighborhood, with downtown San Francisco a few minutes by foot, and access to shopping in the Marina. Public transportation to downtown is a trip back in time, thanks to Muni's vintage trolleys from around the world on the F-line, a fleet of restored streetcars that trundle throughout the city.
---
Outer Richmond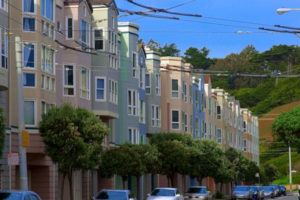 The Outer Richmond has a laid-back, beach-town quality, along with abundance of outdoor opportunities. Both Ocean Beach and Golden Gate Park are within easy reach, and a good portion of the area has wide streets and relatively flat terrain for biking and walking. Several Muni bus lines also serve the area. Pocket-sized China Beach is popular for sunbathing, while mile-long Baker Beach provides stunning views of the Marin Headlands and the Golden Gate Bridge. On sunny weekends, Ocean Beach is filled with kite flyers, surfers, and f picnic goers. Hikers head to the Lands End Trail, which meanders along the cliffs above the sea, past the Sutro Baths and the Legion of Honor. Numerous walking and jogging paths crisscross adjacent Golden Gate Park. Geary Boulevard is lined with restaurants of every ethnicity, from Mexican, Russian, French, and Italian to a plethora of establishments serving food from every corner of Asia.
Cultural opportunities abound in this neighborhood as well. The Legion of Honor in Lincoln Park features art from around the world and Golden Gate Park's renowned museums are just a short drive or bus ride away. The Outer Richmond features wonderful three- and four-bedroom, single-family homes with hardwood floors, bay windows, yards, wood-burning fireplaces and garages. Newly remodeled condominiums and multi-unit homes are also available. Some homes offer spectacular views of Golden Gate Park, the Presidio, and Ocean Beach.
---
Outer Sunset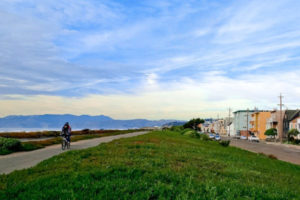 Mostly quiet and residential, the Outer Sunset also has small stretches of commercial activity along Noriega and Taraval streets. The neighborhoods famously foggy summers attract those who long to escape the heat. Bordered by Ocean Beach, the Outer Sunset provides residents with abundant outdoor recreational opportunities. Tree-lined Sunset Boulevard makes a great walking, biking, or jogging route, and it provides access to paths in Golden Gate Park. Locals flock to Ocean Beach to walk along the Pacific Ocean, and surfing is a popular activity any time of year. At nearby Fort Funston, families explore the dunes while hang gliders fly above their heads. Mount Davidson Park, the highest point in San Francisco, provides a pleasant hike and great views in practically every direction. The San Francisco Zoo provides the opportunity to have close encounters with wildlife, and the education center holds frequent classes on animals and conservation. The neighborhood's Parkside Branch of the San Francisco Public Library offers educational events and exhibits. Outer Sunset features a range of multi-unit and single-family homes.
---
Pacific Heights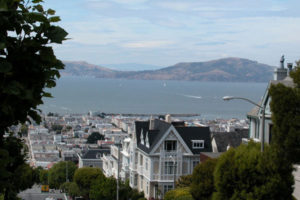 Homes in the grand, upscale Pacific Heights neighborhood deliver commanding views of the San Francisco Bay and the city below, with neighborhood hills rising from the Marina and bordering the Presidio. Some of the oldest, grandest, and largest homes in the city can be found in highly affluent Pacific Heights, featuring Victorians, Edwardians, Mission Revivals, and homes in the style of French chateaus. Some of the former baronial mansions now serve as elite private schools, including San Town School For Boys, Hamlin and Convent of the Sacred Heart (in the former Flood Mansion). Pacific Heights has gorgeous parks, playgrounds, and, bounded by the Presidio, easy access to open space and miles of hiking, running, and biking trails. The main shopping district can be found on nearby Union Street and Fillmore which runs north and south through Pacific Heights and is home to some of the city's chicest boutiques and choicest restaurants.
---
Parkside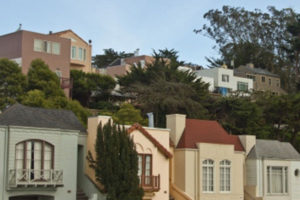 The Parkside is a beautiful, diverse community in southwestern edge of San Francisco. A group led by William Crocker founded the neighborhood in July 1905 when he procured the land from the estate of Adolph Sutro and others in a million-dollar development deal. The Parkside is primarily a residential enclave served by several Muni lines. Culture is also plentiful in Parkside. The Parkside Library, Marina Classical Ballet and the Irish Literary & Historical Society of San Francisco hosts speakers, musicals and poetry events. Stern Grove is a big attraction with those who live in the Parkside walk to its free summer concerts.
---
Potrero Hill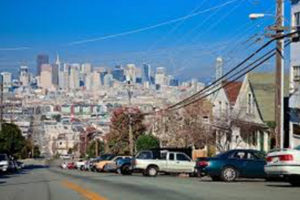 For years Potrero Hill remained one of the best-kept secrets in San Francisco. Shipyards and working docks on one side of the hill, and bakeries, breweries, and warehouses on the other gave a decidedly quiet neighborhood view. Today, Potrero Hill has a lot going on with its location, sunny weather, spectacular views, and easy commutes to Downtown or Silicon Valley. Potrero Hill homes are mainly single-family Victorian homes, many undergoing modern remodels. Shops along 18th Street offers great cuisine and a wide variety of options. At the foot of the hill there's a lively mix of students at the California College of the Arts campus and the California Culinary Academy, with local establishments hosting up-and-coming music acts. A Whole Foods Market also helps supply the neighborhood delicious produce and fresh, ready-made meals.
---
Presidio Heights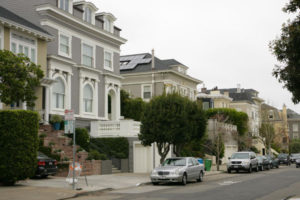 Presidio Heights is the elegant sister to Pacific Heights. While some of the grandest homes in the city are found in this neighborhood, including the cluster of mansions circled around the gated enclave of Presidio Terrace, Presidio Heights is very much a family-friendly community. The older, established homes along the wide, quiet streets of Presidio Heights are mainly two-story, large, and complete with front and back yards. This is a primarily residential neighborhood, with nearby shopping to be found in the adjoining Laurel District. Upscale restaurants and boutique shops clustered on Sacramento Street in an inviting, alluring way. Presidio Heights is a neighborhood with style and sophistication.
---
Russian Hill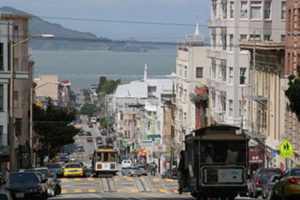 Dazzling views, the hairpin turns down brick-paved Lombard Street, and the Hyde-Powell cable cars make Russian Hill an iconic favorite. Locals savor the steep garden walks and tiny pocket parks. And despite the steep streets, Russian Hill is a highly walkable urban enclave, with many residents able to commute to work on foot. Restaurants and boutiques along the tree-lined Hyde Street between Jackson and Union streets offer European charm. Polk and Green streets boast international cuisine and specialty wine shops. Housing ranges from charming, century-old backyard cottages to multimillion-dollar mansions, luxury hilltop townhomes, and condos with panoramic views of San Francisco Bay. Homes in the neighborhood are built in Italianate, Spanish Colonial, Mission Revival, Neo-Georgian influences, and Arts and Crafts architectural styles.
---
Sea Cliff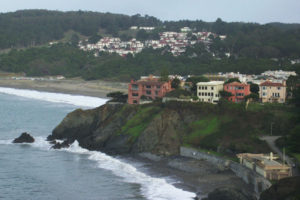 Stunning views of the Pacific Ocean, the sweeping headlands of Marin across the Golden Gate, and the open space of Lands End lend the stately mansions of Sea Cliff a remote, wild feel. With its massive multimillion-dollar homes and expansive, manicured lawns, neighborhood homes maintain an air of privacy and exclusivity. Older custom homes reflect a fondness for Spanish Mission, French Beaux Arts, English Tudor, and Normandy style chalets. At the top of the hill overlooking Sea Cliff is Lincoln Park, with its immaculate golf course, and the beautiful Legion of Honor, a museum that showcases international art, popular exhibitions, and lectures. Sea Cliff is perched above China Beach. A steep wooden walkway leads to a small, protected, pristine beach on the Golden Gate that is popular with families. Sea lions bask on the nearby rocks. Although the neighborhood feels a world away, it is just a short drive from the many retailers and restaurants along Clement and Geary Streets.
---
South Beach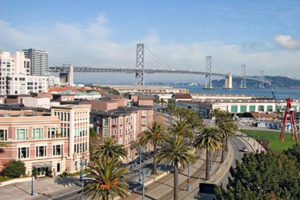 Beneath the foot of the Bay Bridge, next to AT&T Park, and fronted by the Embarcadero, South Beach claims some of the best weather in all of San Francisco. Homes in this completely walkable neighborhood include luxury condos, high rises, and lofts in converted warehouses. Weekend mornings find residents walking their dogs or jogging along the Embarcadero and enjoying the public art. South Beach is within close proximity of a number of excellent restaurants and the world famous Ferry Building offering a robust farmers' market and coffee venue. Yerba Buena Center for the Arts is a nearby cultural hub with adventurous theater, dance, music, and film series.
---
SOMA (South of Market Area)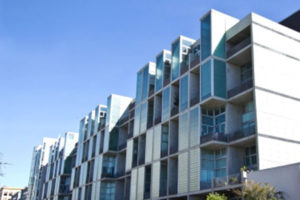 Once a major industrial district, SOMA/South of Market was transformed to a hip to live-n-work in the neighborhood with the dot-com boom. SOMA homes are diverse in style and history and allow residents to easily navigate the walkable neighborhood. Luxury loft housing filled old printing factories and people discovered Victorian cottages tucked into the quiet alleys between the broad streets. Yerba Buena Gardens and South Park are often filled with people eating lunch on the grass in front of the once-exclusive mansions. Nondescript warehouses have been converted into tech-company offices. The area of SOMA known as Mid-Market has seen a building boom as of late, thanks to tech heavyweights who have headquarters in the neighborhood.
---
Saint Francis Wood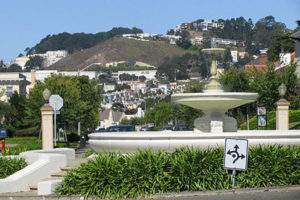 St. Francis Wood keeps a low profile behind its gateways. Homes in this quiet, residential neighborhood are impressively large on generously sized lots. Developed in the 1920s for the affluent families of San Francisco, St. Francis Wood homes were designed by the prominent architects of the day, including Julia Morgan, and range in style from Normandy farmhouse to Spanish Mission, Georgian, and Tudor. Landscape architects laid out the curving streets and designed sunken gardens, loggias, fountains, and reflecting pools. The neighborhood is close to Highway 1 which connects the neighborhood to San Francisco International Airport and Silicon Valley to the south, and Golden Gate Park, the Presidio, and Marin County to the north.
---
Telegraph Hill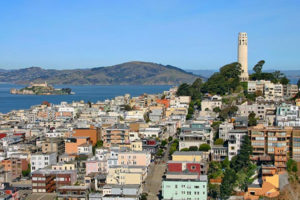 Telegraph Hill is one the city's oldest neighborhoods and home to the largest concentration of pre-1870 buildings in San Francisco. The neighborhood still bears witness to those glory days. As ships unloaded their cargo, a quarry at the top of Telegraph Hill supplied the rocks they needed for ballast, and today, the exposed cliff face above Broadway remains one of the neighborhood's defining features. Telegraph Hill is famed for its Italianate homes, Carpenter Gothic houses, and charming cottages, with their steeply pitched roofs and ornate wooden scroll work. Those examples of old San Francisco are joined by newer modernist homes by many noted architects. Coit Tower, named after the heiress who donated the funds to honor San Francisco's firefighters, dominates the skyline of the community. While steep, the slopes of Telegraph Hill lead to the Financial District, Fisherman's Wharf, and the waterfront, making this an extremely walkable neighborhood. From the waterfront climbers often take steps to Coit Tower, past flowering community gardens and towering trees colonized by wild parrots. The view from the top is one to behold.
---
Twin Peaks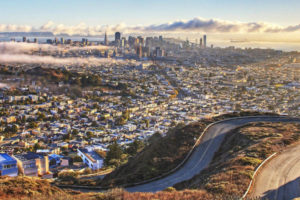 The second highest point in San Francisco, Twin Peaks offers some of the best views of the city. In between the slopes of Twin Peaks, the quiet, curving streets lead to homes offering unobstructed views of the city. The neighborhood is largely residential, with single-family homes making up the bulk of the available housing. Victorians at the foot of the slopes give rise to midcentury, modern showplace homes toward the top of Twin Peaks.
---
Van Ness/Civic Center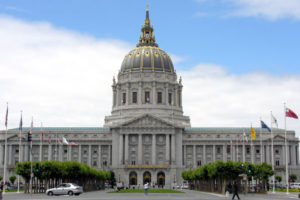 Residents of the Van Ness/Civic Center neighborhood can walk to it all. The city's major cultural institutions are just steps away: the War Memorial and Performing Arts Center (home of the San Francisco Ballet, San Francisco Opera, and Herbst Theatre), Louise M. Davies Symphony Hall, Orpheum Theater, Brooks Hall, Bill Graham Civic Auditorium, and the new Asian Art Museum of San Francisco. Federal, state, and city government offices are also within a short walk. For those working downtown in the Financial District, public transportation via Bay Area Rapid Transit (BART) and Muni makes the commute a matter of minutes from. San Francisco Civic Center homes include high-rise luxury condos, upscale apartment buildings, and live/work lofts. An independent cinema, a movie multiplex, bookstores, coffee shops, and cafes line the main corridor of Van Ness Avenue.
---
West Portal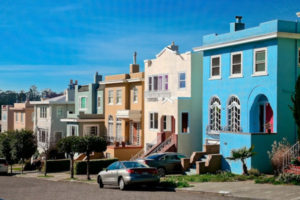 Family-friendly West Portal was originally developed as a suburb of San Francisco's downtown. The neighborhood's building boom began in the 1920s with the opening of the light-rail tunnel under Twin Peaks. Residential housing along the rolling streets predominantly consists of single-family detached homes. West Portal's shopping district is compact but vibrant, comprised of multiple stores, banks, neighborhood taverns, and family-style restaurants. Catching a Muni from West Portal is easy and convenient with three light-rail trains connecting this neighborhood to San Francisco's Market Street and downtown.
---
Yerba Buena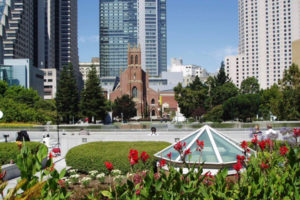 Restaurants, amenities, convenience, and cultural define life in Yerba Buena. Located south of Market Street residents walk to art galleries, Yerba Buena Gardens, AT&T Park, and Michelin star-rated restaurants. Yerba Buena's proximity to Bay Area Rapid Transit (BART) and Caltrain stations make for convenient commuting throughout the Bay Area. The heart of the neighborhood is Yerba Buena Gardens with meadows, trees, flowers, falling water, public art, and small cafes providing a serene oasis in the middle of the downtown bustle. Yerba Buena homes offer a variety of luxurious options, including Millennium Tower and the St. Regis. Lofts and condominiums in Yerba Buena's converted historic buildings provide touches such as exposed brick, concrete walls, high ceilings, hardwood floors, and shared roof decks for evening entertaining.